After working with
Arijit Singh
in 'Phir Bhi Tumko Chaahunga' ('Half Girlfriend') and 'Khulke Jeene Ka' ('Dil Bechara'),
Shashaa Tirupati
collaborated with the singer for the third time recently for '
Rait Zara Si
' ('
Atrangi Re
'). The talented singer is also making headlines for her first single, '
In My Skin
'. In an exclusive interview with ETimes, Shashaa opened up about her debut EP, working with
AR Rahman
, the independent music scene in India and more. Excerpts…
Your first single, 'In My Skin' from your five-track debut EP 'I'm Sorry, Heart' is out. Tell us something about it.
The EP talks about the four stages of a relationship where there are initial butterflies and then you fall in love which is 'In My Skin'. It is about the initial few disagreements, tiffs and the eventual parting of ways. 'In My Skin' actually speaks of the intimacy part of a relationship. But the catch is that nothing happens in reality. They are internalised by a girl who knows that this relationship is not possible. In the song, she is imagining what intimacy would be like with this person with whom she is in love.
What or who is the inspiration behind the song?
It is not something I can talk about but the prospect of one-sided love is something that has governed the entire EP and has been the catalyst to creating the songs and behind the songwriting in the entire EP. It has stemmed from a place of wishful thinking. There is also a sense of pain and moroseness. That is a massive component of 'In My Skin' as well.

What makes this song different from the songs of this genre?
I think the fact that it is so complicated makes it different from other songs of this genre. It is a situation that I think a lot of people go through. Most of us have been in a place where we have had this one-sided love for someone and to express that can be a difficult task, especially when you are only limiting the components of the song to two instruments – your voice and guitar. To give a graph of making love to a song that does not really happen in real life – the idea of that translating into a melody and arrangements makes this song different.
Another thing that makes this song different is the fact that there are so few tracks today that limit the number of components that are put into a music production process. 'In My Skin' just has guitar, vocal stacks and harmony. I think this is what makes this song quite different from other songs of the genre.
You have also been receiving immense love and appreciation for your song, 'Rait Zara Si' in 'Atrangi Re'. How does it feel?
It is very satisfying. With every new release, there is a sense of nervousness and it is nerve-wrecking. You want your audience to dig into what you are doing because we thrive on the love and support of our fans. People have really liked how my voice has come out and how I have expressed what I have expressed in the song. I am glad that the song is something that I resonate with in terms of the vulnerability that the melody and lyrics have. It is very fulfilling and I hope people keep supporting my independent songs as well.
This is the first time you have sung for Sara Ali Khan. How was the experience recording the song?
I recorded the first version of the song in Vancouver, Canada during the lockdown. I was there looking after my father. I was approached for the song so I recorded a version of it in my home set up and sent it across. When I came back to India, I was called to record the final lyrics of the song. This is my third track with Arijit Singh which I am very grateful for. He is the kind of artist that every era has a handful of, who leave a mark for generations to come. I am happy that our voices marry so beautifully together. I would love to do a single with him independently if it interests him at some point of time in the near future.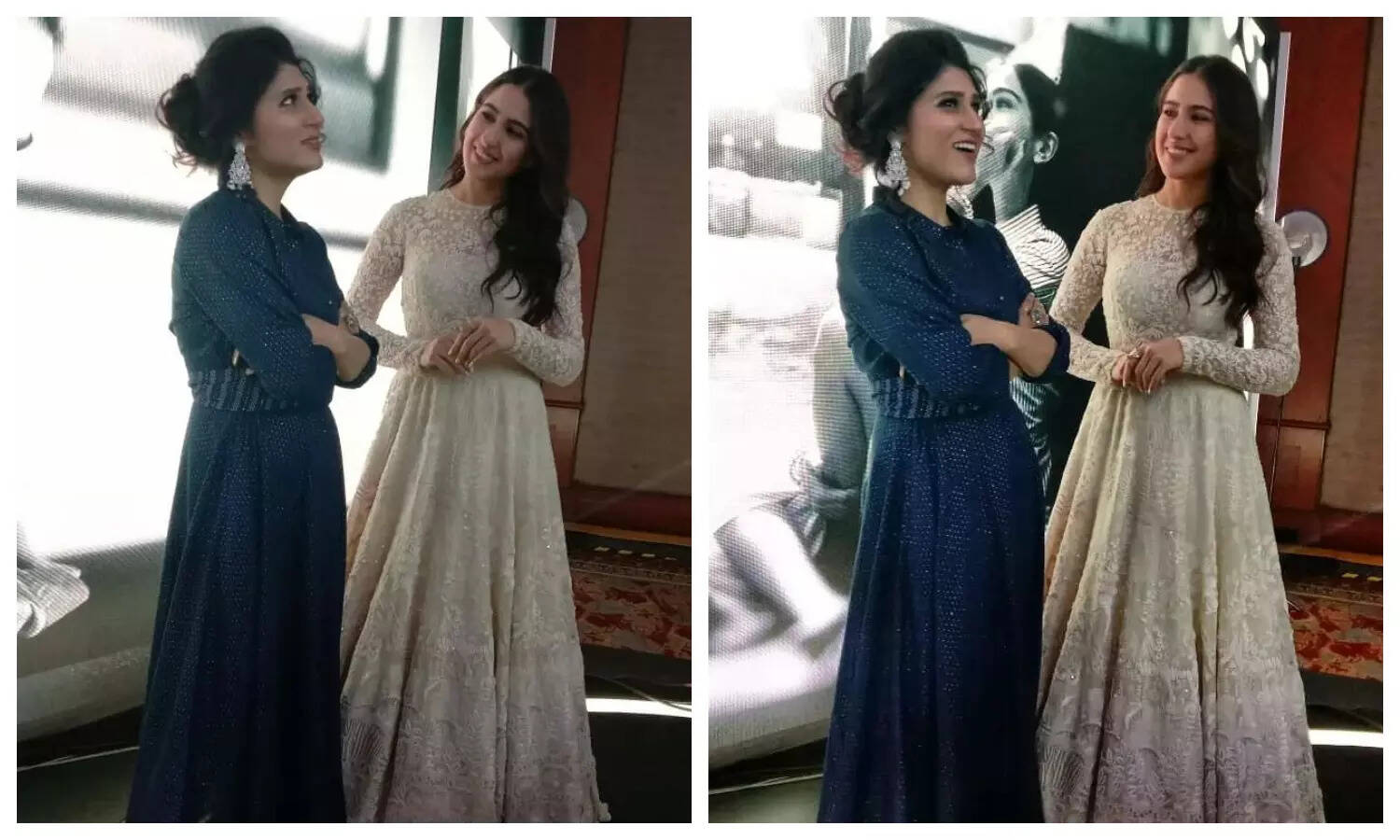 Sara has been such a darling through this process. I met her during the audio launch and she wanted to immediately make a reel together. She posted a reel of me humming a few lines from the track. In real life you will see her giving me a nice mushy hug. She is a very amicable and lovable person. She really appreciates talent and is very respectful which I love about her. I would love to chill with her sometime.
Is singing for an AR Rahman song different from others? How do his songs stand apart?
I feel Rahman sir can get inspired by anything and he can make it his own. He can probably listen to a truck sound and make something out of it. That is my understanding of him. He has got a level of creative genius. When you are working with him, you can only wish that an iota of that seep through his mind and get through to you for starters and then be transmitted through you into the microphone. That is my perception of how I would love to incorporate a bit of him in my art.
His songs do so many things to you in so many different ways probably because of the lack of fear he has overall. There are no inhibitions and that is what makes his songs stand out. He doesn't follow a template.
You have also crooned for other languages. How difficult is it to sing in a language you are not well-versed with and emote correctly through your songs?
I have sung in about 14-15 different languages now. I believe if you are a good listener, you can sing in any language. You have to pay attention to the nuances and minute detailing that language rightfully demands. Me being an overly emotional person, it is beautiful to be allowed an opportunity to carry the weight of a song in my voice.
You have some big and hit tracks to your credit. How do you look back at your journey so far?

My journey has just begun. 'Humma Humma' was a hit and then I was like, 'what's next?'. Even after awards come in there is a thirst to outdo yourself. I feel like I have not even begun to prove myself as an artist. I pray and hope that I can do a lot more and that it may reach multifold audiences. It is a long way to go.
Your dream collaboration would be with…
My dream collaboration would be with Radiohead. But they are not active anymore so my next choice would be this phenomenal guy that I look up to and how – Bon Iver. My third choice would be the contemporary prototype of Radiohead which would be Coldplay.
Korean music is taking over the globe, especially BTS. Are you fond of their music?
Yes, of course, I am fond of their music. They are commercial, fit, they are an audio-visual experience. They are doing a great job with what they are doing. They know how to reach people. Their marketing is amazing. There is nothing not worthy of liking about them.
The era of the '90s had some great music. What's your view on the pop music scene now?
I don't think we have a pop music scene but we do have an Indie music scene that is growing and particularly with the movie music scene taking a backseat during the lockdown. I absolutely loved the music of the 90s. There is a different nostalgia associated with that so I won't be able to compare. A lot is happening in the Indie music scene. There are a plethora of genres and artists. There is a purpose behind the kind of music being put out. There are some who are doing phenomenal work and I would love to listen to more of them.